Today had looked like a good day on the forecast and it didn't dissapoint. As Liz was working I didn't have a car so after my session last night I left my gear hidden in a building site next to the beach so that I could ride down this morning to sail. It was great arriving at the beach a little after 7am and my gear there ready, the wind blowing 18-20 knots and the sun shining.
The Camp!
Beach Road
I have been slagging off my Angulo Sumo 105 recently, to be fair it has seen better days, but it has spent almost 2 1/2 years getting thrashed by the harsh Bahrain climate, the rugged and sharp beach on Amwaj and a few trips to Hawaii where is was always abused and made to do things it shouldn't! Today though it did prove (yet) again that it can handle a whole range of condition and is well suited to the sailing here.
Beach road
I had a fun freestyle session (with a small wave fin) in front of my new beach camp, the condition were perfect and it was good to make some progress (small steps!). With it not super windy I put on a longer and straighter fin so that I could make my way upwind to the building ramps in a spot I will call Outsiders, a lonely place upwind and offshore where there are ramps when it is windy enough, luckily we have had a solid wind for 2 days now so the (small) swell lines have started to develop and they produced some decent ramps.
It was nice to be able to get some good forwards rather than just spinning although I never find looping on a 100+ litre board that comfortable on the ankles or feet. My feet actually started to rub on my straps and worried that I would create the same problems that I had during the last two summers (where my feet had holes in them for what seemed like months) I though it was time to make my way back downwind and reunite with my bike.
After a break, food, water and a 30 minute gym session I was ready for a 2nd session. I knew that I needed to change the staps on my board to reduce the rubbing so I quickly took the really soft HSM ones that I have on my wave board and slung them into my rucksack.
A nice healthy lunch.
A brief session infront of my freestyle DVD over lunch did help!
Changing the Old Dakine to super padded HSM straps did make my feet less painful but they are still sore.
Another freestyle session and some more progress before going to Outsiders where the waves had built up and were providing some decent ramps for forwards and backs. Was great to be getting some height for a change but it was a bit hetic on the 105 now and my feet were sore so didn't stay that long. With the tide building and a solid 20+ knots I knew that the Wall (speed course) would be starting to work, the tide was still a little low but as I went down my second run I saw a dolphin which was rather cool. Session 2 over, time for a quick ride to the pool to relax with some friends before going home for a break.
View from the camp.
I wanted to try the Wall later so made a DIY aquapak for my GPS and made my way back with a new supply of drinking water. With the temps over 35C from 6am to 6pm it is vital that you have water wherever you go, carrying it all is rather a pain! My first run was my best with 22.14knots, while not quick it is the first timed run on the course so guess that makes it a record. The wind was dropping and I was rather underpowered but it was enough to show the potential that the Wall has. I did see 2 dolphins so that made up for for dying wind. Time to call it a day and get some food so that I can train at the gym tonight.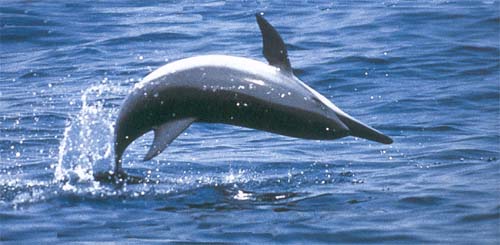 I have seen dolphins in Bahrain before but this was the first time I had seen them in Amwaj.
With the wind forecast to stick around for another day I parked my gear in the camp and rode home, kinda liking this no rigging / de-rigging life!
More to follow...